We had access to the Lurigancho prison to witness how art, fashion and design can help positively redefine all spaces as part of the "Cárceles Productivas – Chance project' program.
The deprivation of freedom, among many things, causes creativity to find different escapes. In the Lurigancho penitentiary there are poets and writers who write what they dream, remember or simply do not know. Hairdressers that, while they obey the style that they are asked for, give a subtle turn in the cuts that can transmit a sense of belonging. Artisans, inside factories divided by bars. Interns who wonder if among it all they will become children of the reformation.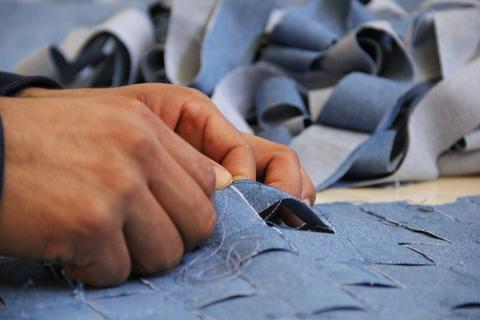 Space and time are two intensified variables that lead reality for those who wake up behind bars, all inside a different social orded that is forever reinventing itself. Within this prison, ten pieces have been produced. Pieces that reflect the work done over four months and that are proudly assumed by the inmates as the result of a creative reform.
This exercise, carried out with Peruvian designers Sophia Lerner, Paloma Zimmermann, Romina Montserrat and Lis Bazán, as well as creative directors Duilio Dall'Orto and Christian Duarte, has given the participants the opportunity to fill that need for expression through fashion. In the pieces different techniques have been applied in a process that was continously taking shape every week "At the beginning,I did not know what to expect and I think that in the end that was the best, because we did things that I did not know could be done. Maybe I would not have dared before, "confesses one of them as he looks at his work on one of the ten ceramic tables in the space designated for the project. In each Friday meetings, both designers and interns were deciphering the dynamics that the team should have and the formula to reach the result that everyone wanted to obtain. The working groups were made up of interns of different ages and pavilions under the guidance of a designer, together they gathered the necessary resources for the creation of the final pieces. While manipulating a piece of leather, one of them indicates "This is not a material that I would use, but why not, right? Here there are many and at the same time few things to use. Yes, I know it sounds a little weird. " Not really. They had to work within limitations that demanded more in each phase of the elaboration with upcycling as a technique of maximum use of the resources. The "productive prisons" are forged with the participants work, the support of public or private organizations and the genuine will of both parties. The decision to contribute within a space like this has a complexity that only each designer can understand by its particularities, but what has been learned and lived is confessed without hesitation.
Sophia Lerner: "Being able to know and ,in some way, be part of this small world full of potential, has been something totally inspiring that has helped me grow as a person and as an artist. To understand first hand and above all feel that people make mistakes but everyone has the right to redeem themself."
See more on: http://fastnotfash.com/lurigancho/